About
Address

Toin University of Yokohama
1614 Kurogane-cho, Aoba-ku, Yokohama, 225-8503
Japan

Tel

+81-45-972-5881 (Japanese Only)

Fax

+81-45-972-5972

E-mail

tu-ic@toin.ac.jp
Message
Toin University of Yokohama includes the Faculty of Law, the Faculty of Biomedical Engineering and graduate schools for both faculties. In 2008, we added the Faculty of Culture and Sport Policy to further our position as a university. At Toin Gakuen, the university forms the second pillar of education that complements education at the primary and secondary levels. The university has deep roots in the local community and boasts a unique school tradition that puts the growth and maturity of students above all else. To become a first-class, globally-competitive institution, we hold on ideals that focus on the social demands of the 21st century. By placing a sizable focus on particular goals, we are able to offer top level educational programs which overflow with individuality while simultaneously maintains measurable high quality.
Education at the Faculty of Law begins with a foundation in legal basics such as constitutional law, civil law and criminal law. Upon this is built a firm understanding of the generalities and outlines of judicial precedents, which gives students an empirical grasp of the societal functions and ideological background of the law as a whole. The Faculty of Law features a specialized program which helps students gain the skills and qualifications needed to work in the legal profession in corporate legal offices or as lawyers, or in law-related occupations such as judicial clerks. We are steadily expanding our range of top-level career plans.
The Faculty of Biomedical Engineering has developed a hands-on learning style that features small undergraduate classes. At the same time, due to an expansion in the graduate school, there has been a further merging of education and research, with undergraduate students being assigned to research laboratories. In these programs they strive to achieve rapid qualitative improvement under the concept of "an undergraduate to graduate school continuum."
The Faculty of Culture and Sport Policy has built a system for the study of sports and culture which consists of a new educational scheme that focuses on service and personal experience with the aim of training future sports coaches, local government policy makers, and elementary and junior high school instructors. We constantly incorporate scientific and technological theories to our curriculum in order to assume a cohesive and fresh outlook.
We devote ourselves to practical education because we believe that the strong intellectual curiosity, desire for social justice and spirit of inquiry into the ordinary and extraordinary that our students possess are the keys to supplying what is lacking in modern society today.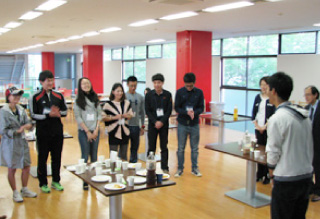 Future
Admission Policy
Mission and Values
The greatest goal of Toin is to improve the talents of each individual student to the optimum level through university education based on our four principles of education (growth of mature individuals,development of substantial business sense,an open learning environment,and emphasis in international exchange) coupled with clear goals and a strong desire to be active members of society. Our aim is to take applicants with the potential for remarkable growth after enrollment and give them the opportunity to transform themselves.
Target Student Profile
Faculty of Law
Department of Law
Applicants with a longstanding concern for the various problems facing modern society who would like to search for solutions.
Open-minded, unprejudiced applicants and those who can or who would like to be able to think matters over in highly rational and logical ways.
Applicants who can or who would like to be able to express their opinions persuasively in speech and in writing.
Faculty of Biomedical Engineering
Department of Medical Technology
Applicants who are highly interested in organic life and who wish to use chemistry and biology to actively pursue its mysteries while also using the new knowledge gained through this pursuit to contribute to the development of medical technology.
Applicants who wish to work for medical organizations or clinical laboratory centers as (nationally-certified) clinical laboratory technicians.
Department of Clinical Engineering
Applicants with an interest in both medical science and engineering who proactively carry out both self-study and self-development in those subjects and who would like to contribute to the progress of medical technology and to the research and development of new medical equipment.
Applicants who wish to work for companies such as medical equipment manufacturers as (nationally-certified) clinical engineers.
Faculty of Culture and Sport Policy
Department of Sport Education
Applicants with an interest in the educational challenges facing society and a desire solve them through sports and culture.
Applicants who would like the world at large to know the joy of sports.
Applicants who wish to work as elementary, junior high and senior high instructors or as instructors for the lifelong learning community.
Department of Sport Technology
Applicants who seek to become Broad-minded instructors who combine sports science with medicine and engineering in order to contribute to the scientific analysis of the world of sports and physical activity from a health standpoint.
Applicants who aim to become sports trainers who know the latest training theories and data analysis methods and also possess great insight and teaching ability.
Applicants who want to become sports engineers in order to use sports training equipment to benefit not only athletes but also society as a whole.
Department of Culture and Sport Policy
Applicants who want to contribute to town planning and regional and international development through culture and sports by working for the government or an NGO/NPO.
Applicants who seek to use sports and culture to design a society full of healthy, happy people.
Applicants who want to convey and express the joy and importance of physical activity through journalism or other means.
Graduate School of Law
Master's Degree in Law
Applicants willing to combine various experiences with the study of law.
Doctoral Degree in Law
Applicants willing both to deepen their theoretical understanding of the law and to use their past learning experiences as a basis for acquiring advanced legal knowledge.
Graduate School of Engineering
Master's Degree in Engineering
We seek graduate students who desire to use their knowledge of the human body's structure, functions and diseases as a starting point for contributing to cutting-edge medical treatment through the field of engineering.
Doctoral Degree in Engineering
We seek graduate students who wish to work on advanced, internationally-relevant research independently.
Graduate School of Sport Sciences
Master Degree in Program Sport Science
Applicants with a strong interest in the various challenges facing sports science.
Applicants trying to explore new fields of research in sports science.
Applicants who desire to pursue their research activities in both theory and practice and use the results to benefit society.
Applicants with a strong interest in further studies or in studying abroad upon completion of their course.